Technology platforms built to successfully manage and market your brand.
THE DEMANDBRIDGE
PLATFORM

DB ENTERPRISE
Our eCommerce toolset offers core functions for brand management, customization, and distribution of marketing content across all channels. We recently optimized the user experience, added advanced customization features, and now boast a full suite of digital offerings.

DB DISTRIBUTOR
The industry's most robust operations, inventory, and accounting software for distributors orchestrates every step of fulfillment. From initial quotes and orders, to management of vendors, inventory, and billing—the fundamentals of your business are integrated with real-time transaction processing.

DB ALLIANCE
This web-based procurement solution helps distributors and brands manage quotes and order distribution with vendors and partners. With this tool we offer our users a competitive quoting experience aimed at improving margins and providing customer service team efficiencies.
Enhanced Reporting on the Horizon
WE'VE SUCCESSFULLY INTEGRATED POWER BI INTO DB ENTERPRISE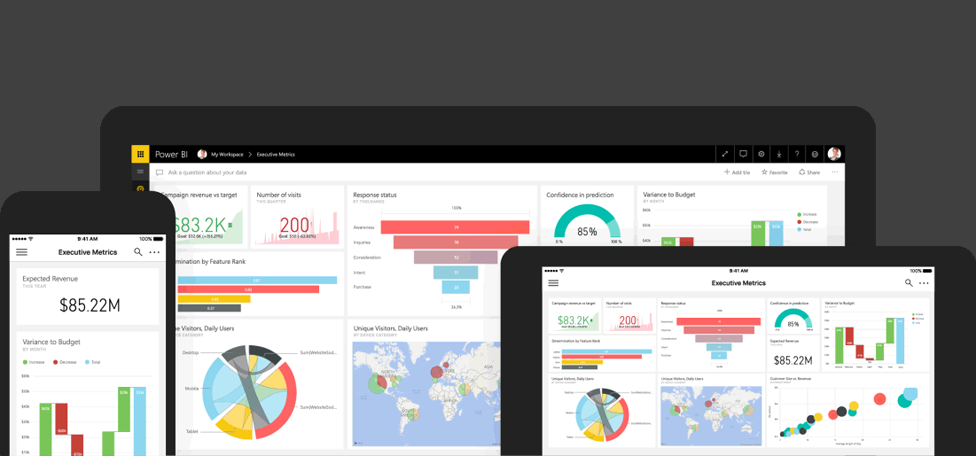 SO, WHAT'S BEING
REIMAGINED
Welcome to the new DemandBridge. New management team. New ownership structure. New product plans for the future.
Over the course of this past year, our software and products have continued to evolve and incorporate market-leading practices. We have new platforms on the horizon that will better enable you to generate new revenue and greater profit margins, both for yourselves and your clients. Together, we will partner with you and your clients to achieve better results and differentiated market offerings.
With more than 1.2 million registered users and 200,000 brands across the retail, healthcare, franchising, financial, energy, and non-profit verticals, DemandBridge's platform allows distributors to service customers on many aspects of their marketing and sales efforts—from hard goods to full digital distribution of their content. Our platform is fully integrated and takes many of the time-consuming tasks associated with marketing and enables users through an easy-to-navigate interface tailored to brand standards. This helps build relationships and add value for your customers, and in turn makes you a trusted partner.
Learn how our technology platforms can serve your organization!
Click to receive a free platform demonstration. We'll walk you through product features, integration, pricing, real-life use cases and more.
REQUEST A DEMO
DemandBridge values our global partnerships, and is dedicated to developing beneficial and results-driven relationships.
We also want to be the type of partner you can grab a beer with once the work is done.